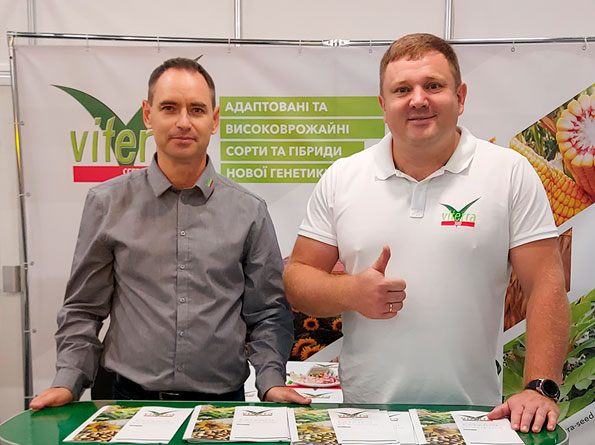 Participation of our company at the agro-industrial exhibition AGRO EXPO 2020
Dear friends!
The national agro-industrial exhibition "AGROEXPO-2020" took place at Kropyvnytskyi from September 30th to October 3rd.
For the first time, VITERRA SEED LLC participated with its own stand and aroused considerable interest of visitors. Optimism was added by heavy rain (more than 60 mm), which accompanied the opening of the event. So, almost every visitor was keenly interested in varieties of winter wheat. We are offering products especially interesting for agricultural producers in the southern and central regions (Kirovograd, Mykolaiv, Kherson, Zaporizhia, Dnipropetrovsk, Poltava regions) who represent the vast majority of customers. The ultra-early semi-intensive varieties Felix and Katarina, intensive mid-early - already known Athlon and new - an universal variety with owns Centurion with a very high coefficient of tillering and plasticity to different sowing dates.
The results obtained by farmers in this difficult year for maize and sunflower were discussed as well. Most of them mentionedneeds to change and adapt growing technologies and to select hybrids more carefully.
VITERRA SEED LLC has a good portfolio of sunflower for various growing technologies Clearfield, Clearfield Plus, sulfo, classic and high oleic hybrids. Top results are recorded by hybrids Puntasol CL, Paraiso 1000 CLP, Velko, SURO 162. Regarding maize, the portfolio is based on hybrids in the segment 280-350 FAO, which showed a good result in 2020 - Suporto, ISH 303, Surraund, SUM 305, OS 378.
In our opinion, the agricultural event was very useful for all participants, there was an extremely important exchange of information: we as a seed producer received inquiries and feedback from consumers, and producers got acquainted with our products and received comprehensive consulting and advice.